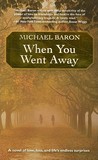 When You Went Away
by
Michael Baron
My rating:
4 of 5 stars
When You Went Away by Michael Baron
Taking another break from my usual SF fare and my target has been sitting quietly in my kindle for two years. One more time I looked and asked myself what this one was doing here. So of course I started reading it; and kept right on reading it to the end.
I don't mind Nicholas Sparks and I've recently read The Fault in Our Stars by John Green. But this book nailed some of the feeling of hopelessness and despair, midst the driving pressure to keep sane while trying to raise a child alone. Add to this that his teen aged daughter had run away, just prior to the babies arrival and his wife's death, and you've go someone who has little time and less inclination to be out looking for companionship.
This book adds an interesting touch in that his wife's sister visits a lot. She looks just like her sister, his wife, and that can't be helpful. After taking time off to try to put the remains of his life back together, we find Gerry having a difficult time letting go enough to find a reasonable babysitter. But he knows he must get back to work; and he's buried himself for such a long time raising his infant son Reese that he may not have allowed himself enough time to grieve.
To add to this, when Gerry returns to work, he finds himself attracted to someone who seems so perfect; her only fault is that she's not his deceased wife and it's too early for him to start dating. Neither being too stoic nor to soppy his ruminations seem quite genuine as he tries to sort through his life. The only oasis he has is his son who remains forever his reason for continuing on. His daughter's occasional emails, to let him know she is alright, have a dual effect: especially since she uses a forwarding agent that prevents him from locating her. He tries to sort through his life to figure out why she ran off with a boy three years older than her and vowed never to return. He blames himself.
Anger over his daughters estrangement and guilt over having feelings for someone else so soon and fear of forging ahead in life without his one true love; he's a powder keg waiting to be sparked to life. When something happens to his one anchor in life, Reese, blind rage might undo the work he started when he chose to return to his life.
There are a lot of things I can relate to in this book and it's well done and quite a compelling read for someone who expects different fiction and conflict.
Excellent Dramatic Romance, for someone taking a break from the usual; and just as great for someone who loves a good Romance.
J.L. Dobias
View all my reviews