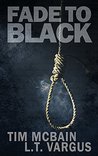 Fade to Black
by
Tim McBain
My rating:
5 of 5 stars
Fade to Black by Tim McBain and L.T. Vargus
When you use a title like this is a fair thing to say that you might get muddled in with a few other books of the same title. Notwithstanding that this is the second book of this title that I've read in less than a year. The first is by Francis Knight and it's a pretty good magic world, dystopic, fantasy and bears reading. This book is a bit different though I'm not sure where to put it yet in genre. Since it is part of a series I think I'll wait, before passing that judgment. Although it does stand as a pretty intense psychological thriller, I enjoyed this and I think a lot more people will enjoy it than I'd have thought when I first went into reading it.
When this Fade to Black was first drawn to my attention I was reticent about reading it just from having sampled the authors, Tim McBain and L.T. Varus, first book. I was thinking maybe Stephen King quality and I do read those, possibly Dean Koontz which I've read less of and have half a dozen of his waiting for the right moment. I do that kind of horror suspense, but not that often so I passed on these books. Then I got this message through twitter and (well I won't go into it) I'll only say that if you get the message you'll see what I mean and you won't be able to resist. So I picked Fade to Black because it was mentioned and because I was intrigued with the notion of reading two Fade to Black in six months time. I wasn't disappointed and I was greatly surprised to find this wasn't anything as I expected.
Jeff Grobnagger is not your average hero; maybe he's your average anti-hero though he doesn't seem average anything. It seems he strives to be less than average if not invisible. Thankfully he is engaging enough that it doesn't hurt that the reader is going to be stuck in his head all the way through this piece. He's really messed up though, and you can't help but feel sorry for him even while he makes you laugh a bit by his almost seeming naïve yet snarky take on things. Jeff has a problem, well he has a large number of problems, but the seizures are the one of greatest concern here. It's not just the seizures it's the dreams that accompany them; or maybe we should say the recurring dream. It seems that he consistently finds himself dangling by one foot from a rope while an assassin is soon to arrive and strangle the life out of him. Quite thankfully when that occurs he wakes from his seizure, and when the reader first meets him he wakes in the grocery store where Glenn and a dozen other people are gathered around with concerned faces. This would probably be mildly embarrassing if Jeff didn't have an aversion to people so it might be more like horrifying and as I learn more about Jeff it becomes evident that to him the dream is less horrifying than dealing with people. But today Glenn manages to force himself on Jeff and begins the uphill battle toward changing Jeff's life.
In this novel the seizures are a gateway into some other level of consciousness (possibly) and there are other people who can experience these things while there are several groups that have been trying to attain the level that Jeff seems to have reached. Glenn thinks that this has something to do with the disappearance of his daughter, Amity, and that somehow Jeff will help him find her but Jeff wants nothing to do with that until his place is trashed when someone tries to take him out with some potshots and by his reclusive nature he has nowhere to go except to Glenn's for a place to crash.
From here the reader is taken into a world that has several options ranging from magic and Tarot to Quantum Physics as an explanation for what might be happening. The bottom line for Jeff is that a hooded unknown kills him every time he has this dream generated during a seizure and he doesn't know why or who. Somehow the threat to his real life and the several cult like groups and Glenn and Amity are all tied together and Glenn is relying on Jeff to get the answers. And at about 20 percent of the way through the story I had a fair idea of the 'who' but not the why and a notion about a possible ironic outcome. I don't consider myself greatly exceptional at deducing things so it's likely that others might come to the same conclusions. Rather than being disheartened I would just console other readers with the reality that it's less about the destination and more about the journey in this story. This is a journey with Jeff that you won't want to put aside once you start down the path. It was a short enough read that I finished it in one sitting.
Being in Jeff's head and hearing his doubts and fears and paranoia are what make this a psychological thriller as he finds there are few he can trust. The ending is a bit of a surprise in that it's more like the end of the first act and there will be some acts to follow, which there will be. But as it stands the ending gives it more of the feel I initially thought with those suspense and horror authors mentioned above. Still there is a promise of some redemption in that the second book is already there to be read which I intend to do. And by the nature of this book the debut novel I passed on is now on my list.
No matter what you feel going into this novel I expect most readers will enjoy the read and be thirsty for the next one. But don't take my word for, by all means pick up a copy and make your own judgment.
J.L. Dobias
View all my reviews